3 Health Benefits of an At-Home Sauna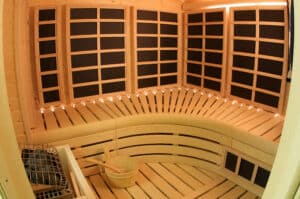 The health and wellness benefits of an at-home sauna are plenty; from full body relaxation and clearer skin to reduced physical pain, saunas can have a very positive effect on your well-being. Whether you choose a traditional or infrared sauna, the health benefits of having your very own home sauna are virtually endless. Not convinced? Keep reading about the benefits of an at-home sauna.
Soothe Aches and Pains
Saunas have long been favored for physical rehabilitation and recovery benefits; in fact, many gyms and fitness centers have saunas available for use by members. It is common knowledge that heat is an excellent method for soothing back pain, arthritis, muscle soreness, and similar ailments. If you work in an active industry or partake in a lot of physical activities such as hiking or weightlifting, one of the most rewarding benefits of an at-home sauna is having the ability to recover in it each day.
Saunas soothe aches and pains by dilating your blood vessels, increasing blood flow, and relieving pain. Having the ability to use your sauna without leaving the home is ideal for those who experience high pain levels, have compromised immune systems, or require frequent sauna sessions to achieve results and do not want to have to leave their home every time they want a steam. For those looking for a home sauna setup that is rapid and requires little warmup time, we recommend investing in an infrared sauna, which can be turned on and warmed up within about fifteen minutes — perfect for those who are looking for instant pain relief.
Take Relaxation a Step Further
We all have our relaxation routine at the end of the day, whether it's winding down with a book or getting in a steam. The primary function of saunas is to promote relaxation and overall wellness, so why not add it to your end-of-day R&R routine? Integrating a sauna into your home can help you significantly reduce stress levels. No matter what type of sauna you choose, it will serve as a safe haven of relaxation where you can meditate, organize your thoughts, and unwind from the day without any distractions. In the colder months, it can be extra beneficial, serving as a warm, cozy, stress-free environment to get away to when you need it most. Whether you choose to use your home sauna after a long day at work or after your morning workout, relaxation has no time limit and can be a great addition to your current self-care routine.
Skin Care and Relief
It's a given that the main thing you do in saunas is sweat, but did you know that in addition to all the other benefits of an at-home sauna, all that sweating can be good for your skin? As your blood flow and circulation increase, your skin cells will produce more collagen, and your skin will instantly begin to appear more supple. Over time, you will find that your skin is healthier overall. At the same time, your pores are dilating, allowing you to sweat out all the oils and buildup from the day, making you less acne-prone. These benefits are not exclusive to your face either; saunas have been known to significantly reduce the severity of body acne. Using a sauna for its skin condition benefits can be done at any point in your day — morning, noon, or night — giving you the flexibility to integrate it into your schedule whenever it is best for you.
Relaxation Has No Time Limit
Installing an at-home sauna can increase your relaxation and reduce your pain and stress levels significantly. Instead of having to drive to and from your local gym, spa, or community center to relax and reset, you can simply unlock relaxation right from your own home, with no distractions. With an at-home sauna, relaxation has no time limit, and you have a distraction-free safe haven to unwind and recuperate at the end of each and every day. To begin your home sauna journey, contact the sauna experts at Energysavers. We have sauna solutions for every taste and budget.
About Energysavers, Inc.
Founded over 40 years ago, Energysavers is family-owned and operated out of Meredith, NH. We are proud to provide quality, dependable pellet stoves, wood stoves, fireplaces, hot tubs, saunas, outdoor grills, and more. Visit the store room and choose from the many models and sizes we have in stock and receive the best price and quality service. Call us today at (603) 279-7961 to visit our store or schedule a home inspection.
Let's Get Started!
Our fully certified and award-winning technicians and installation teams will help you find the right product for your home. Reach out today to get started!