Maintaining Your Pellet Stove
Posted on January 4, 2023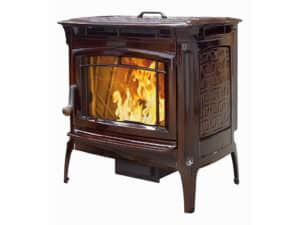 Pellet stoves are an incredibly efficient choice to help heat your home. They are thermostat-controlled and fueled with efficient pellets to reduce the amount of time spent tending to your fire. The pellets used in these stoves are made of wood and other organic materials and are designed to be long lasting, giving you a longer amount of burn time. Keeping your pellet stove clean and properly maintained will guarantee it is safe for your home and operating at optimal capacity.
Clean Your Stove Routinely 
A good rule of thumb for all pellet stove owners is to clean your setup weekly, and more often if you use yours heavily during the wintertime. Each cleaning session does not have to be a complete deep clean, but you should be taking care to clean and maintain the essential components of your pellet stove that are susceptible to grime and buildup. Aside from visual appeal, the glass on the front of your pellet stove should always be kept clear to ensure you can monitor its progress during use. This may require having to clean the window more often than once a week. You should also clean the heat exchange system to make sure you are getting the most heat for your fuel, optimizing its efficiency.
These are all essential components of your pellet stove that keep it running smoothly so you can stay warm. It is important to note that before you conduct any work on your pellet stove you should give it ample time to cool down from last use, ideally 4-6 hours, and unplug your stove before beginning.
Cleaning the Burn Pot
Different pellets produce varying levels of ash, but when left to buildup it can become challenging to clean. The burn pot is where you place your fuel, and leaving old, spent pellets down at the bottom reduces the power of the newer pellets. To make it easier on yourself it is recommended that you dust off and scrape out your burn pot at the end or beginning of each day, whenever you can let your stove cool down. This will help your pellets burn more efficiently and guarantee that it is safe for your home.
Maintaining Vent Pipes
Cleaning your vent pipes is essential. The top of your vent pipe is likely located through your wall. This is where flexible vent brushes come in handy. From that opening you should brush up and down the vent until you notice the brush is coming back clean. This can get messy, so it is suggested that you place a tarp or sheet down to protect the space around your stove inside. At the same time, take a moment to check the vent screen and necessary hardware, replacing any broken or worn down pieces.
Disposing of Ash
Like wood and coal, pellets also leave ash behind when burned. Your pellet stove should have an ash pan; its size will vary depending on the make and model of your stove. To take care of the ash from your pellet stove, start by using your wire brush to sweep any remaining ash down into the ash pan. Once you have done this, you can remove the pan from your stove and dispose of it. From here you can deep clean your ash pan to confirm it starts fresh and does not gather buildup over time. This makes your routine cleaning much easier when the time comes again.
Don't Wait Until the Snow Falls
You get the most use out of your pellet stove during the colder winter months, but that does not mean you should only maintain your stove during that time. You should clean your pellet stove routinely year-round, although you do not have to commit to a weekly schedule when it is not in use. Monthly or as-needed attention is adequate during the off season.
To guarantee your pellet stove is going to work as expected when you need it, you should hire a professional home & hearth maintenance company to evaluate and repair your pellet stove each fall. Professional stove technicians know exactly what to look for and how to get the job done perfectly and safely. Climbing on the roof or cleaning out ash pans can be tough for busy pellet stove owners, so hiring a professional takes the pressure off. Do not wait until the snow is falling and your home is chilly, getting ahead of your pellet stove maintenance guarantees you get the most out of your system.
About Energysavers, Inc.
Founded over 40 years ago, Energysavers is family-owned and operated out of Meredith, NH. We are proud to provide quality, dependable pellet stoves, wood stoves, fireplaces, hot tubs, saunas, outdoor grills, and more. Visit the store room and choose from the many models and sizes we have in stock and receive the best price and quality service. Call us today at (603) 279-7961 to visit our store or schedule a home inspection.
Let's Get Started!
Our fully certified and award-winning technicians and installation teams will help you find the right product for your home. Reach out today to get started!