Maintaining Your Outdoor Grill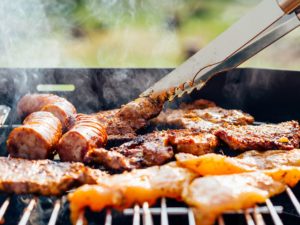 Summer is here, and that means it's time to fire up the grill and start cooking! But before you start grilling, it is essential to make sure your outdoor grill is properly cleaned and maintained. A well-maintained grill not only cooks better, but it also lasts longer. Maintaining your outdoor grill is a year-round commitment, but the more you adhere to a schedule or routine, the easier it will be to clean and maintain each time. Whether it be a general deep clean or inclement weather prep, Energysavers has you covered in everything you need to know about maintaining an outdoor grill.
Cleaning 101
Regular cleaning is the key to keeping your grill in tip-top shape. Routine cleaning prevents buildup, rust, animal nesting, and other damage from occurring to outdoor grills. Here are some general cleaning practices to follow: 
Clean the grates: The first step to cleaning your grill is to remove the grates and clean them thoroughly. You can use a

wire brush or a scraper

to remove any stubborn debris. Once you have used your wire brush, you can use a damp, warm rag to wipe off any remaining residue.

 

Wipe down the exterior: Use a soft cloth and warm, soapy water to clean the exterior of your grill. Make sure to rinse off all soap to prevent damage and buildup.

 

Check the burners: Check the burners for any clogs or debris. If you notice any clogs, use a wire brush or a needle to clean them out. Clogs could become very dangerous if not taken care of and may require the help of a professional outdoor grill service company.

 

Empty the grease tray: The grease tray is an essential component of your grill. Make sure to empty it regularly to avoid any potential fire hazards or buildup.
Prepping for Inclement Weather
In addition to routine cleaning, it is crucial to prepare your outdoor grill for inclement weather. Not doing so may cause damage to your outdoor grill that cannot be repaired due to water, wind, dust, and other natural causes. At the same time, animals looking for a warm, dry place may find their way into your outdoor grill. Here are some tips to follow when it comes to inclement weather preparation: 
Cover your grill: Invest in a grill cover to protect your grill from rain, snow, and wind. This will also help prevent rust and other damage.

 

Store your propane tank: If you use a propane grill, make sure to store the tank in a cool, dry place away from direct sunlight.

 

Check for leaks: Before using your grill after a period of inclement weather, make sure to check for any leaks. You can do this by applying a solution of soap and water to the connections and valves. If you see bubbles forming, this indicates a leak, and you should have it repaired before using your grill again.

 
Don't Wait Until Damage is Done
Maintaining your outdoor grill is essential for optimal performance and longevity. With summer coming up, your outdoor grill will see a lot more usage. Follow these general cleaning practices to ensure your grill is ready for every summer barbecue. When you see inclement weather coming up, like those summertime thunderstorms, do not forget to cover your grill, store your fuel tank, and always check for leaks afterwards. Remember to always follow the manufacturer's guidelines when cleaning and maintaining your outdoor grill, and if something is beyond general cleaning and maintenance, call the experts at Energysavers! Their technicians have the expertise to repair and maintain your outdoor grill so that you can enjoy it for years to come. 
About Energysavers, Inc.
Founded over 40 years ago, Energysavers is family-owned and operated out of Meredith, NH. We are proud to provide quality, dependable pellet stoves, wood stoves, fireplaces, hot tubs, saunas, outdoor grills, and more. Visit the store room and choose from the many models and sizes we have in stock and receive the best price and quality service. Call us today at (603) 279-7961 to visit our store or schedule a home inspection.
Let's Get Started!
Our fully certified and award-winning technicians and installation teams will help you find the right product for your home. Reach out today to get started!