Choosing the Right Hot Tub for Your Home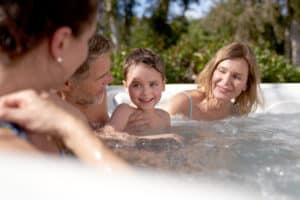 If you are thinking about adding a hot tub to your home, then you've come to the right place! Hot tubs can provide relaxation, stress relief, and even health benefits. But with so many different options on the market, it can be difficult to know which one is right for you. There are many different details to consider when choosing the right hot tub for your home, so let's dive in.
Hot Tubs Come in Many Sizes
The first thing you need to consider when choosing a hot tub is size. How many people do you want to be able to fit in your hot tub at once? If it is just you and your significant other, a small two-person tub might be perfect. However, if you plan on entertaining guests or have a large family, you'll want to go for a larger model that can fit six or more people. Keep in mind that larger hot tubs will also require more maintenance and use more energy, but they also often come with more features and, of course, more space to relax and soak!
Where Will You Put It?
You need to also consider where you want to put your hot tub. Do you have a spot picked out already? If not, you will need to consider the size and layout of your backyard or patio. You will also want to think about things like privacy and accessibility. For example, you may want to put your hot tub in a secluded corner of your yard or on a deck that is easily accessible from your home, making it easier to enjoy even in the colder seasons. It is also important to note that hot tubs must be placed on a flat surface with good drainage to avoid complications or damage.
Energy Efficiency
Hot tubs can use a lot of energy, so you will want to choose a model that's energy efficient. Luckily, newer hot tub models come with the highest energy efficiency ratings. Look for hot tubs with good insulation, efficient pumps, and programmable settings that can help you save on energy costs. This will help you keep costs down while still being able to enjoy your hot tub to the fullest.
Find the Features for You
Hot tubs come with a variety of features, from basic models with just jets to high-end models with built-in speakers, lighting, and more. Think about what features are important to you and your family. Do you want a hot tub with massage jets? Do you want a built-in sound system? Do you want a hot tub with LED lighting? Consider your priorities and choose a hot tub that meets your needs.
Lay Out a Budget
You will also need to consider your budget for a hot tub based on the size and features you chose above. Hot tubs can range in price from a few thousand dollars to tens of thousands of dollars. Think about how much you are willing to spend and what features are most important to you. Do you want customizable lights? A water feature? Keep in mind that while a lower-priced hot tub may seem like a good deal, it may not be as energy-efficient or long-lasting as a more expensive model, whereas investing in a higher-end model may pay off in the long run.
Hot Tubs Change the Game
Choosing the right hot tub for your home requires careful consideration of factors such as size, location, energy efficiency, tub features, and your budget. By taking the time to think about your priorities and doing your research, you can find a hot tub that will provide years of relaxation and enjoyment for you and your family. Not sure where to start? The experts at Energysavers have the knowledge and expertise needed to help you select the best hot tub for your home and goals. Connect with them today to get started on your journey to ultimate relaxation.
About Energysavers, Inc.
Founded over 40 years ago, Energysavers is family-owned and operated out of Meredith, NH. We are proud to provide quality, dependable pellet stoves, wood stoves, fireplaces, hot tubs, saunas, outdoor grills, and more. Visit the store room and choose from the many models and sizes we have in stock and receive the best price and quality service. Call us today at (603) 279-7961 to visit our store or schedule a home inspection.
Let's Get Started!
Our fully certified and award-winning technicians and installation teams will help you find the right product for your home. Reach out today to get started!